INDIVIDUAL CHALLENGE INFORMATION
The Halifax Health Individual Challenge is designed to provide incentive for individuals to get out and get active and to live a healthier lifestyle. Individual participants in the Live Your Life Well Race Series can earn participation points throughout the year by signing up for and participating in the 19 series events. One point is earned for each race the series member participates in. These points will be totaled throughout the year and participants can earn rewards such as a free series race t-shirt, custom participation medal, or race jacket.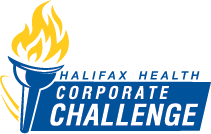 CORPORATE CHALLENGE INFORMATION
The Halifax Health Corporate Challenge provides an additional incentive for local corporations to get their employees involved and engaged in friendly competition. Group participation will be rewarded in addition to overall performance using a weighted point system that levels the playing field for companies and teams of varying sizes from small businesses to large employers.
Companies will be broken down into two divisions based on company size, ten (10) or fewer employees and greater than ten (10) employees. Participants and companies may join the series throughout the year. The Halifax Health Corporate Challenge will consist of one award category for participation, broken down by large and small groups.